Kestrel 1000便携式风速仪--NK1000数字风速仪
美国NK公司Kestrel 1000/NK1000数字风速仪使用耐冲击喷射成型塑料和耐腐蚀材料制造,电子元件完全密封。不用时有一坚硬外罩加以保护,同时还提供一个系索,更加保证安全。美国Nielsen-Kellerman公司设计,制造和销售用于活跃生活方式和技术应用的坚固耐用的便携式风速仪和手持式气象仪,包括Kestrel风速仪和气象仪,远距离射击精度的Kestrel弹道风速仪,划船和划桨NK电子以及蓝色海洋坚固的扩音器PA系统。
美国NK公司Kestrel 1000/NK1000数字风速仪的特点:
风速测量
小巧坚固的设计
高精密宝石叶轮
大而清晰的液晶显示功能
更大值和平均值功能
单位可选(Kt、m/s、KMH、MPH、FPM/IO)
防水(IP67标准),可漂浮在水上
有备用叶轮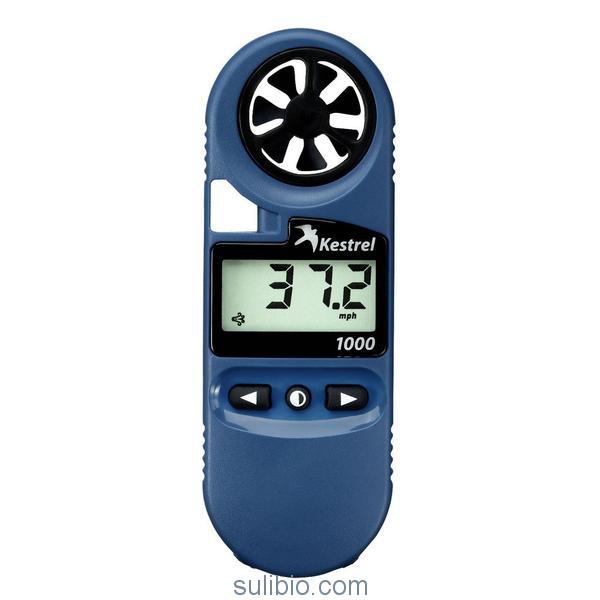 Kestrel 1000/NK1000数字风速仪
美国Kestrel 1000/NK1000数字风速仪技术参数
风速
工作模式: 平均3s移动
显示更新: 1s
单位: 节(kt)、米/秒(m/s)、
公里/小时(KM/H)
英里/小时(MPH)、英尺/分钟(FPM)
及蒲福(B)风级
分辨率和范围: Kt、m/s、KM/H或MPH;
分辨率0.1显示范围199.9
最小速度: 0.3m/s(0.6Kt:1KM/H;0.7MPH;60fpm)
更大速度: 40m/s(78kT:144KM/h;89MPH;7830fpm)
准确度: 风速±3%
显示更新: 1s
分辨率: 1s
抗震: 从2m高处落下
自动关闭: 停止操作30min后
电池: CR2032锂纽扣电池。典型电池寿命400 h
注意: fpm/10显示范围是6到783
尺寸: L113mm x W42mm x H14mm
我公司长期提供美国NK风速仪,无线气象站:美国NK Kestrel 1000/2000/2500/3000/3500/4000/4100/4300/4500 美国DAVIS Vantage Pro 2无线气象站等等 价格优惠 欢迎来电咨询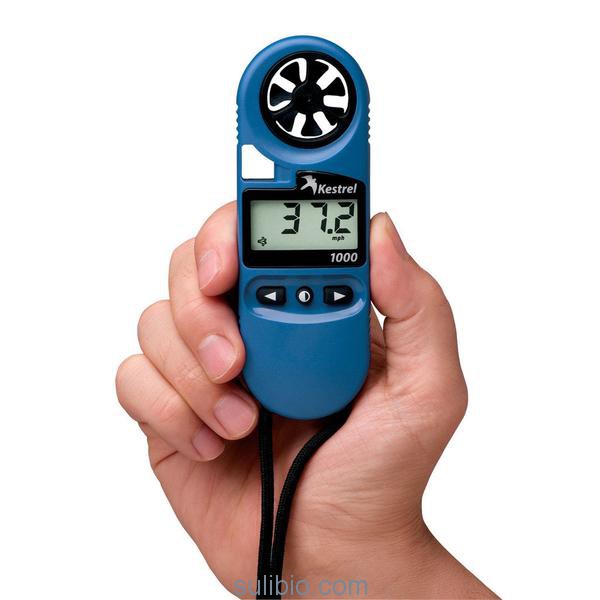 Kestrel 1000/NK1000数字风速仪
美国Kestrel 1000/NK1000便携式风速仪英文介绍:
Kestrel Meter 1000 Wind Meter
The Kestrel 1000 Wind Meter is the base model in our extensive assortment of Kestrel pocket weather meters. Simple and compact, the Kestrel 1000 fits right into the palm of your hand and weighs a mere 65 grams. It's also extremely durable and totally waterproof, allowing you to measure wind speeds in even the harshest weather conditions. Waterproof and floats.
Convenient and reliable, the Kestrel 1000 is the perfect tool for model plane pilots, kite boarders, and other outdoor enthusiasts who rely on accurate wind speed information. A hard slide-on case, lanyard, and battery are included.
The Kestrel 1000 is the most common for a DZSO (Drop Zone Safety Officer)
Winds can be measured on any Kestrel up to 135 mph. NK only guarantees the accuracy of the measurement to be within tolerance up to 89 mph. Also at those speeds, it is not recommend any prolonged exposure as it could damage the impeller at those speeds for any prolonged length of time. It is similar to being able to measure very hot temperatures outside of the spec range but do not do it for any extended time.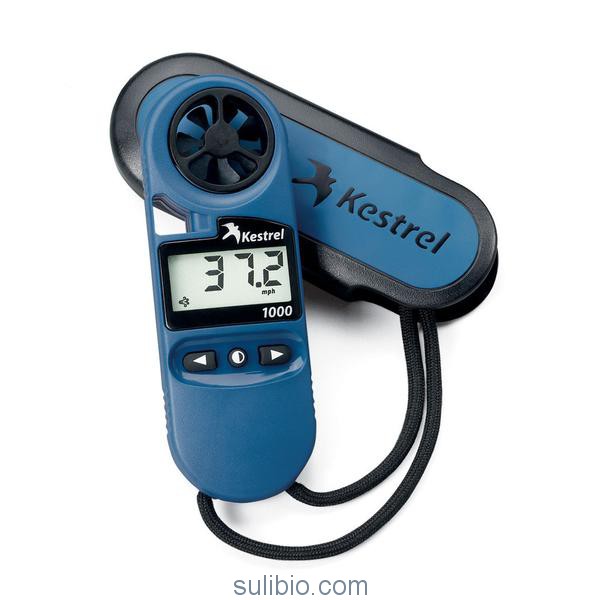 Kestrel Meter 1000 Wind Meter
Impeller:
Every Kestrel Meter features a large, 1" impeller mounted on a sapphire jewel bearing, which means it starts rotating with the slightest puff of air. This patented impeller is user-replaceable by simply pushing it out with your thumbs, which means it can easily be replaced if it is damaged or worn. The measurements from the wind impeller are taken magnetically. The impeller is not glued or attached to the unit. Because every new impeller is calibrated in the wind tunnel at the USA factory, if your application demands regular calibration, simply pop in a new impeller and the Kestrel Wind Meter is restored to like-new factory calibration standards. The Kestrel 1000 can easily be switched between mph, km/h, ft/min, m/s, knots and Beaufort.

For nearly 20 years on the portable weather meter market, the Kestrel 1000 is still one of the most reliable handheld weather meters.
Measures:
•Current Wind speed
•Maximum wind gust
•Average 3 Second wind speed
AS TRUE FOR ALL KESTREL METERS:
| | | |
| --- | --- | --- |
| Resolution | Operational Range | Specification Range |
| 0.1 m/s | 0.6 to 60.0 m/s | 0.6 to 40.0 m/s |
| 1 ft/min | 118 to 11,811 ft/min | 118 to 7,874 ft/min |
| 0.1 km/h | 2.2 to 144.0 km/h | 2.2 to 144.0 km/h |
| 0.1 mph | .3 to 134.2 mph | 1.3 to 89.5 mph |
| 0.1 knots | 1.2 to 116.6 knots | 1.2 to 77.8 knots |
| 1 B | 0 to 12 B | 0 to 12 B |
The Kestrel Meter 1000 Wind Meter measures/features
•Current Wind Speed
•Average Wind Speed
•Maximum Wind Gust
•Protective cover with sure-grip overmolding
•Data hold function
•Large easy-to-read display
•Waterproof and floats
•Patented user-replaceable impeller
•Wide range of wind speeds and low startup speed
•Reliable, portable, and easy to use
•All instruments and accessories are completely assembled in the USA

Kestrel Meter 1000 Includes
•A slip-on protective cover
•Neck lanyard
•CR2032 coin cell battery (Average life 300 hours)
Kestrel Meter 1000 Additional Information
•Kestrel 1000 (PDF) Instruction Manual English
•Kestrel 1000 Archived (PDF) Instruction Manuals English | French | Spanish | German | Italian
• Kestrel Meters Detailed Specs / Certificate of Conformity (All Meters, PDF)
• Kestrel Meters Catalog (PDF)
•RoHS CERTIFICATE of Compliance
•Dimensions: 4.8 x 1.7 x 0.7 in. / 122 x 42 x 18 mm
•Weight: 2.3 Ounces / 65 Grams
•Model: Kestrel 1000 Part # 0810
•Place of Origin: USA